RELEASE/REVIEW BLITZ - OFF THE BENCH by Alley Ciz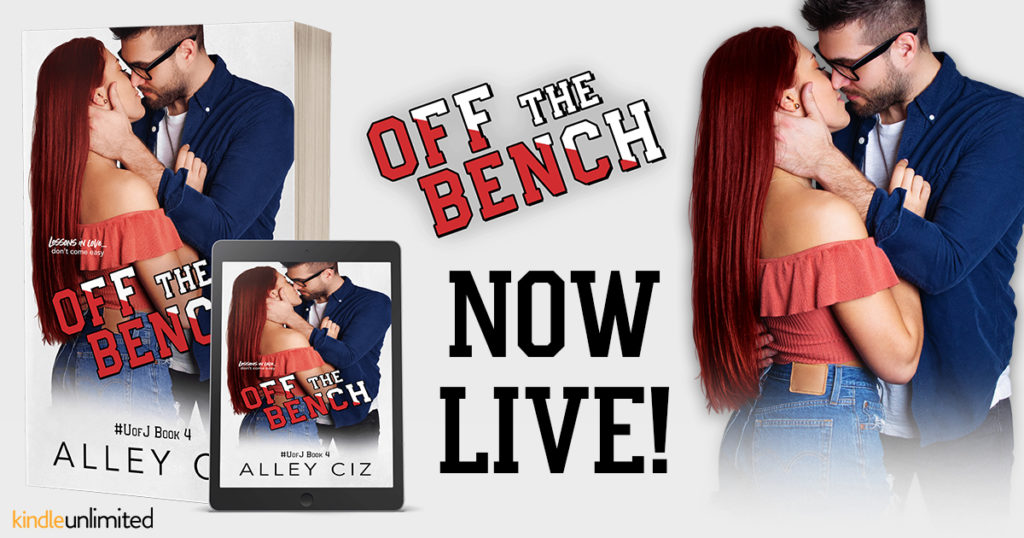 ❤️ 𝗛𝗢𝗧 𝗡𝗘𝗪 𝗥𝗘𝗟𝗘𝗔𝗦𝗘 ❤️
𝗢𝗳𝗳 𝗧𝗵𝗲 𝗕𝗲𝗻𝗰𝗵 𝗯𝘆 𝗔𝗹𝗹𝗲𝘆 𝗖𝗶𝘇 𝗶𝘀 𝗟𝗜𝗩𝗘! 𝗗𝗼𝗻'𝘁 𝗺𝗶𝘀𝘀 𝘁𝗵𝗶𝘀 𝘀𝘁𝗮𝗻𝗱𝗮𝗹𝗼𝗻𝗲 𝘀𝗽𝗼𝗿𝘁𝘀 𝗿𝗼𝗺𝗮𝗻𝗰𝗲 𝗶𝗻 𝘁𝗵𝗲 𝗨 𝗼𝗳 𝗝 𝘀𝗲𝗿𝗶𝗲𝘀!
#𝟭-𝗰𝗹𝗶𝗰𝗸 𝘁𝗼𝗱𝗮𝘆!
BLURB
@UofJ411: What's happening here? #TheyDoSayOppositesAttract #WhereAreAllThePost-its
On a scale of one to ten, Quinn Thompson is a fifteen.
Gorgeous. Fiery. A cheerleader so far out of my league it's
embarrassing
that I even fantasize about her. I need to find a way to shut down the dirty thoughts she inspires before it's too late. If I don't, this whole new life of mine is at risk. Easier said than done when temptation lives right down the hall.
For such a smart guy, CK can be surprisingly clueless.
Sweet. Shy. The star of all my naughty nerd fantasies, but utterly blind to my flirtations. Giving in to his plea to be his love coach may seem drastic, but I'm
desperate
for the chance to come off the bench. Too bad the friend zone was a hell of a lot safer for my heart.
PURCHASE LINK
Amazon Universal:
https://geni.us/UofJ4
𝗔𝗱𝗱 𝘁𝗼 your Goodreads 𝗧𝗕𝗥:
https://bit.ly/OTB-GR
ABOUT THE AUTHOR
Alley Ciz is an internationally bestselling indie author of sassy heroines and the alpha men that fall on their knees for them. She is a romance junkie whose love for books turned into her telling the stories of the crazies who live in her head…even if they don't know how to stay in their lane.
This Potterhead can typically be found in the wild wearing a funny T-shirt, connected to an IV drip of coffee, stuffing her face with pizza and tacos, chasing behind her 3 minis, all while her 95lb yellow lab—the best behaved child—watches on in amusement.
AUTHOR LINKS
Facebook | Facebook Group | Goodreads | Newsletter | Instagram | Pinterest | Website | YouTube | Amazon | BookBub | TikTok
The perfect couple!! A total opposites attract story that had my attention right from the start. I mean did you read that opening line? LOL I love this author and she has quickly become a one click author to me with her witty, sarcastic, loveable heroes and heroines. I can't wait for the next in the series!
~Jen



"I love, love, love this series. Each and every character add so much to the story and honestly I couldn't care less who are the main characters I just know I'm going to read it.
CK was absolutely adorable in this book. His awkwardness and shyness had me rooting for him to get his girl. All I can say is that I totally thank the big man upstairs that this book was written in dual POV because it was entertaining to read both CK & Quinn share some of the same insecurities. Of course it was Quinn in all her awesomeness who took the first step in revealing her feelings - I just about stroked out in glee when this happened.
Fingers crossed that I won't have to wait too long for the next book in this series but honestly I will read whatever Alley decides to release next. I voluntarily reviewed an advanced readers copy of this book." ~Sharon