RELEASE/REVIEW BLITZ - DESTROYED DESTINY by Mary Catherine Gebhard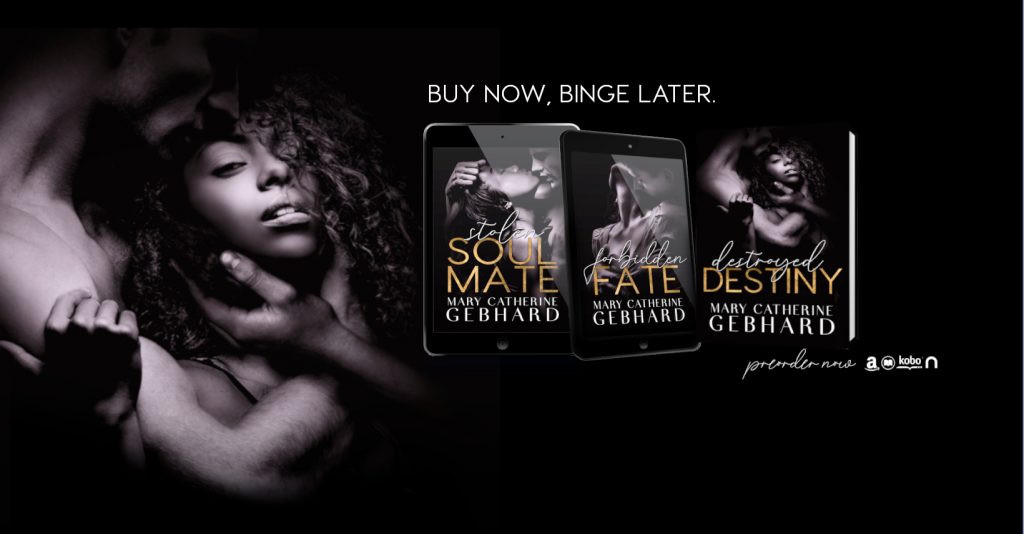 𝕊𝕦𝕣𝕡𝕣𝕚𝕤𝕖!!
𝗣𝗿𝗲𝗽𝗮𝗿𝗲 𝘁𝗼 𝗯𝗲 𝗗𝗘𝗦𝗧𝗥𝗢𝗬𝗘𝗗! 𝗗𝗲𝘀𝘁𝗿𝗼𝘆𝗲𝗱 𝗗𝗲𝘀𝘁𝗶𝗻𝘆 𝗯𝘆 𝗠𝗮𝗿𝘆 𝗖𝗮𝘁𝗵𝗲𝗿𝗶𝗻𝗲 𝗚𝗲𝗯𝗵𝗮𝗿𝗱 𝗶𝘀 𝗟𝗜𝗩𝗘 𝗘𝗔𝗥𝗟𝗬!! 𝗗𝗼 𝗻𝗼𝘁 𝗺𝗶𝘀𝘀 𝘁𝗵𝗲 𝗘𝗣𝗜𝗖 𝗰𝗼𝗻𝗰𝗹𝘂𝘀𝗶𝗼𝗻 𝘁𝗼 𝗚𝗿𝗲𝘆 𝗮𝗻𝗱 𝗦𝘁𝗼𝗿𝘆'𝘀 𝗷𝗼𝘂𝗿𝗻𝗲𝘆!
#𝟭-𝗖𝗹𝗶𝗰𝗸 𝘁𝗼𝗱𝗮𝘆!
BLURB
Our love broke the rules.
From the first stolen kiss to the last, destiny put us at odds.
Now four hearts are crossed, our happily ever afters tangled in heartache.
The bed I'm in doesn't belong to my thorny prince, but the one holding his crown hostage.
If my destiny with Grayson Crowne is divided, then we'll spend a lifetime finding our happily ever after.
But if a house divided never stands, then my destiny with Grayson never stood a chance….maybe we don't need to find our destiny.
We need to destroy it.
As we fight to write happily ever after, the ugliest truth
holds
it captive.
The princess has a destiny with the villain too.
Even if she hates it.
Even when it's wrong.
PURCHASE LINKS
♛ AMZ:
https://amzn.to/2VJaeZv
♛ UNIVERSAL:
http://mybook.to/DestroyedDestiny
CATCH UP WITH THE SERIES
If you haven't started Crowne Point, now is the time! The entire series is ON SALE for a limited time, and available to read for FREE in Kindle Unlimited.
HEARTLESS HERO
♛ AMZ:
mybook.to/heartlesshero
STOLEN SOULMATE
♛ AMZ:
mybook.to/StolenSoulmate
FORBIDDEN FATE:
♛ AMZ:
mybook.to/ForbiddenFatet
INSTAGRAM GIVEAWAY
During the months of November, December, and January @marycgebhard is doing a massive Instagram giveaway! Anytime you convert a new reader to the Crowne World, and they join the #CrowneBookishFamily, post your reviews and tag her. If she reposts EITHER of your reviews on her instagram or on her story, both you AND your friend will win a signed copy of the series!
*OPEN INTERNATIONALLY*
So be sure to tell all your bookish friend about Crowne Point! It's in KU and the series is on sale (for release week)!
RULES & REQUIREMENTS
Open internationally. Both readers must link to reviews in their post on Goodreads or Amazon to show that they have read the series. The new reader's review must be on or after November 24th.
Stop by Instagram to enter:
https://www.instagram.com/marycgebhard/
TEASER
My heart needed a day to absorb this story but I don't think a day is enough. Four hearts on the line, traveling on divergent paths only to eventually crash at the end. This is a story mired in thorns, heartbreak and joy. Everyone a villain, everyone a hero. Tears, heartbreak and sacrifice are the rules at Crown Hall. Lies and secrets abound, the chess game still in play but who will survive the aftermath of checkmate? Destiny is what you make it, not what is dictated, setting a new future course. Love is the key to making your own destiny. A story so intricate that it will take your heart on several journeys. The blows so numerous that you will feel the calm after the storm in your heart.

"Let me walk down the dark road with you. if you don't let me disappear, I won't let you disappear either." He crushed his lips against mine, groaning into my mouth. "I'll build a kingdom for you, little wife." I'll blow up the world for you, Atlas."