Cover Reveal THE TOUCH OF A VILLAIN by Holly Renee
🔥🔥 𝑯𝑶𝑻 𝑪𝑶𝑽𝑬𝑹 𝑹𝑬𝑽𝑬𝑨𝑳 🔥🔥
𝗧𝗵𝗲 𝗧𝗼𝘂𝗰𝗵 𝗼𝗳 𝗮 𝗩𝗶𝗹𝗹𝗮𝗶𝗻 𝗯𝘆 𝗛𝗼𝗹𝗹𝘆 𝗥𝗲𝗻𝗲𝗲 𝗶𝘀 𝗰𝗼𝗺𝗶𝗻𝗴 𝗠𝗮𝗿𝗰𝗵 𝟭𝟴𝘁𝗵! 𝗗𝗼𝗻'𝘁 𝗺𝗶𝘀𝘀 𝘁𝗵𝗶𝘀 𝗲𝗻𝗲𝗺𝗶𝗲𝘀 𝘁𝗼 𝗹𝗼𝘃𝗲𝗿𝘀 𝗿𝗼𝗺𝗮𝗻𝗰𝗲!
#𝗣𝗿𝗲-𝗼𝗿𝗱𝗲𝗿 𝘁𝗼𝗱𝗮𝘆!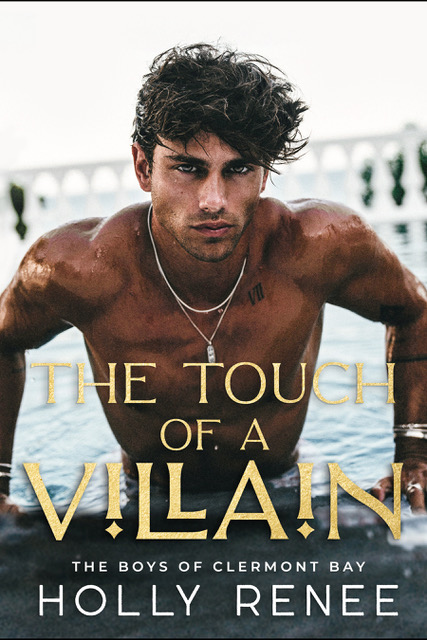 BLURB
𝙔𝙤𝙪𝙣𝙜. 𝙒𝙚𝙖𝙡𝙩𝙝𝙮. 𝙀𝙡𝙞𝙩𝙚. 𝙍𝙪𝙩𝙝𝙡𝙚𝙨𝙨. 𝙏𝙝𝙚 𝙗𝙤𝙮𝙨 𝙤𝙛 𝘾𝙡𝙚𝙧𝙢𝙤𝙣𝙩 𝘽𝙖𝙮 𝙧𝙪𝙡𝙚𝙙 𝙤𝙫𝙚𝙧 𝙩𝙝𝙞𝙨 𝙩𝙤𝙬𝙣 𝙖𝙨 𝙞𝙛 𝙞𝙩 𝙬𝙖𝙨 𝙩𝙝𝙚𝙞𝙧 𝙠𝙞𝙣𝙜𝙙𝙤𝙢.
And Beck Clermont controlled them all.
He was arrogant and conceited, and from the moment I met him, he had made up his mind about me.
Dangerously handsome and wickedly cruel, he had no intention of letting me spend my senior year under the radar.
The secrets of old money ran deep, and even though I barely knew them, the sins of my family had put a target on my back.
He was a hurricane, and I was unprepared for the storm.
His touch fatal. His impact irreparable.
There was no negotiation.
He stole my heart. Without warning, without permission.
𝙃𝙚 𝙬𝙖𝙨 𝙩𝙝𝙚 𝙚𝙣𝙚𝙢𝙮, 𝙗𝙪𝙩 𝙩𝙝𝙖𝙩 𝙙𝙞𝙙𝙣'𝙩 𝙨𝙩𝙤𝙥 𝙢𝙚 𝙛𝙧𝙤𝙢 𝙛𝙖𝙡𝙡𝙞𝙣𝙜 𝙛𝙤𝙧 𝙏𝙝𝙚 𝙏𝙤𝙪𝙘𝙝 𝙤𝙛 𝙖 𝙑𝙞𝙡𝙡𝙖𝙞𝙣.
Add to Goodreads ➜ https://bit.ly/TTOAV-GR
Model: Sergio Carvajal
Cover Designer: Cassie Chapman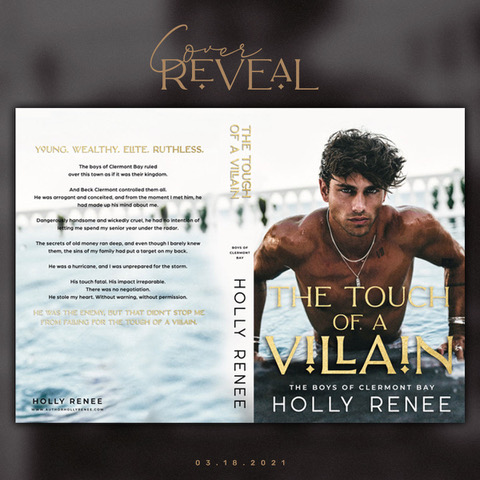 PRE-ORDER LINKS
Universal Link:
https://books2read.com/Thetouchofavillain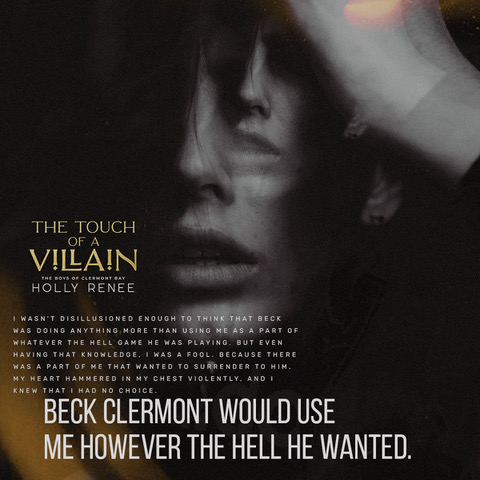 GIVEAWAY
To celebrate The Touch of a Villain's cover reveal, Holly Renee has a paperback up for grabs on Goodreads! Stop by to enter:
https://www.goodreads.com/giveaway/show/319511-the-touch-of-a-villain
ABOUT THE AUTHOR
Amazon Top 100 bestselling author of contemporary romance, Holly Renee brings readers a pinch of angst, an indulgence of heat, and the perfect amount of heart in every book.
Born and raised in East Tennessee, she is a married mom of two wild children. When she's not writing, you can find her reading, pretending to be a dragon for the hundredth time that day, being disgustingly in love with her husband, or chilling in the middle of the lake with her sunglasses and a float.
Holly is a lover of all things romance, Mexican food, Harry Potter, and yoga pants.
AUTHOR LINKS
FB Author Page
|
ReaderGroup
|
Instagram
|
BB
|
GR
|
AMZ Author Page
|
Newsletter Sign up
|
TikTok
|
Website