RELEASE/REVIEW BLITZ - THE FIGHT IN US by Becca Steele
🖤💀 ℍ𝕆𝕋 ℕ𝔼𝕎 ℝ𝔼𝕃𝔼𝔸𝕊𝔼 & 𝔾𝕀𝕍𝔼𝔸𝕎𝔸𝕐 💀 🖤
𝗧𝗵𝗲 𝗙𝗶𝗴𝗵𝘁 𝗜𝗻 𝗨𝘀, 𝗪𝗲𝘀𝘁𝗼𝗻 𝗮𝗻𝗱 𝗟𝗲𝗻𝗮'𝘀 𝘀𝘁𝗮𝗻𝗱𝗮𝗹𝗼𝗻𝗲 𝘀𝘁𝗼𝗿𝘆 𝗯𝘆 𝗕𝗲𝗰𝗰𝗮 𝗦𝘁𝗲𝗲𝗹𝗲 𝗶𝘀 𝗹𝗶𝘃𝗲!
#𝟭-𝗰𝗹𝗶𝗰𝗸 𝘁𝗼𝗱𝗮𝘆!
BOOK BLURB
Lust. Mystery. Betrayal.
Weston Cavendish. My brother's best friend. I'd perfected the art of pretending that I didn't want him, that he didn't affect me every time he was near.
Or so I thought.
When his world comes crashing down, I'm the one he turns to, and I can't deny my feelings any longer.
I know there's something between us.
Until he finds out that I've been hiding things from him, too.
Broken and betrayed, can we pick up the pieces and work together to expose the truth?
The odds are stacked against us.
But I won't give up without a fight.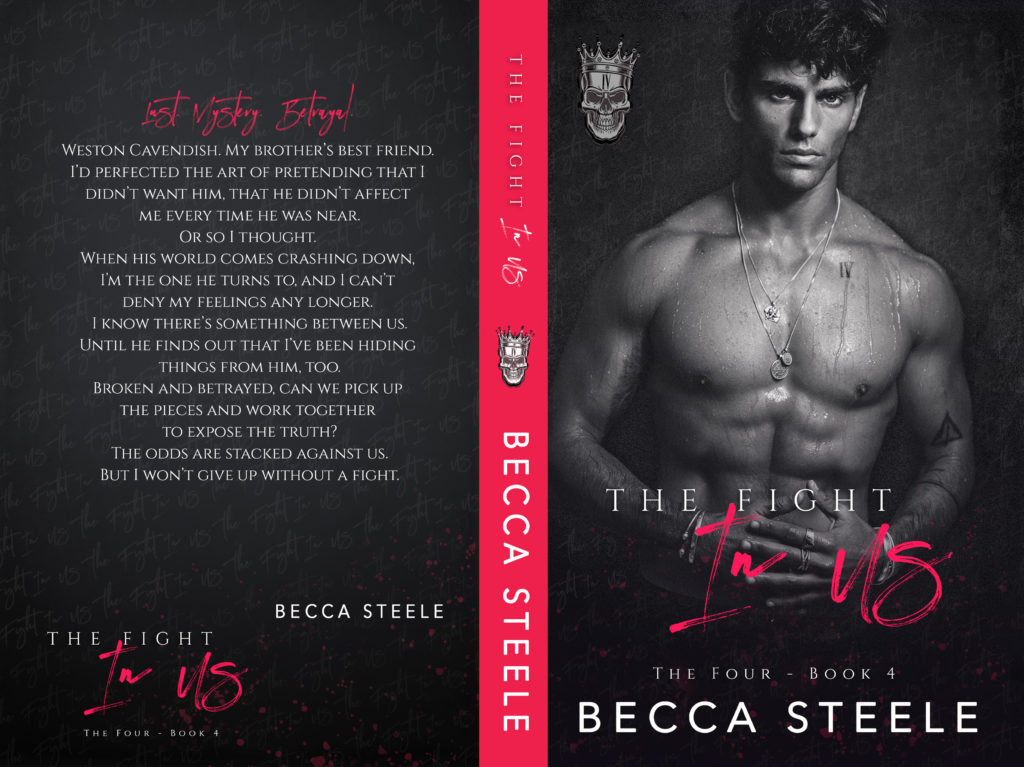 PURCHASE LINKS:
🖤💀
TBR:
http://bit.ly/WestonTBR
Catch up with the Four in Caiden and Winter's trilogy for FREE in
#kindleunlimited
ABOUT THE AUTHOR
Becca Steele is an international bestselling romance author from the south of England, where she lives with her husband, two kids, and a whole horde of characters that reside inside her head.
When she's not writing, you can find her reading or watching Netflix, usually with a glass of wine in hand. Failing that, she'll be online hunting for memes, or wasting time making her 500th Spotify playlist.
AUTHOR LINKS
Sometimes there is nothing better than a brothers best friend romance, Weston and Lena's story will hold a special place in your heart.

Lena fell in love with West when she was just a little girl, and she was sure he would never see her as more than his friends sister. West has feelings for Lena that he knows he shouldn't, but when he comes to find out a huge secret, she is the one he leans on.

Both of these characters were amazing on their own, but together they are forced to be reckoned with. The suspense keeps you reading and on the edge of your seat until the end.