RELEASE/REVIEW BLITZ - THE FALL OF A GOD by Holly Renee
✨✨ ℍ𝕠𝕥 ℕ𝕖𝕨 ℝ𝕖𝕝𝕖𝕒𝕤𝕖✨✨
𝗧𝗵𝗲 𝗙𝗮𝗹𝗹 𝗼𝗳 𝗮 𝗚𝗼𝗱, 𝗕𝗼𝗼𝗸 𝗧𝘄𝗼 𝗶𝗻 𝘁𝗵𝗲 𝗕𝗼𝘆𝘀 𝗼𝗳 𝗖𝗹𝗲𝗿𝗺𝗼𝗻𝘁 𝗕𝗮𝘆 𝗯𝘆 𝗛𝗼𝗹𝗹𝘆 𝗥𝗲𝗻𝗲𝗲 𝗶𝘀 𝗟𝗜𝗩𝗘!! 𝗗𝗼𝗻'𝘁 𝗺𝗶𝘀𝘀 𝘁𝗵𝗲 𝗵𝗶𝗴𝗵𝗹𝘆 𝗮𝗻𝘁𝗶𝗰𝗶𝗽𝗮𝘁𝗲𝗱 𝗰𝗼𝗻𝗰𝗹𝘂𝘀𝗶𝗼𝗻 𝘁𝗼 𝗝𝗼𝘀𝗶𝗲 𝗮𝗻𝗱 𝗕𝗲𝗰𝗸'𝘀 𝘀𝘁𝗼𝗿𝘆!
#𝟭-𝗰𝗹𝗶𝗰𝗸 𝘁𝗼𝗱𝗮𝘆!
BLURB
Innocent. Blameless. Pure. Heartbroken. Josie Vos belonged to the one family I hated more than anything.
And I had forced her to despise me just as much.
It didn't matter that I had lost track of my plan and fallen for my enemy.
Irrevocably hurt and enraged by my deceit, she had no intentions of doing anything but watching me lose my throne.
The secrets of our families can never be forgotten.
I knew that from the beginning, but I refuse to allow the sins of our families to determine our future.
I should have left her alone and let her hate me.
I didn't.
I was going to fight for her, even if she now held all the power.
Add to Goodreads ➜
http://bit.ly/TFOAG-GR
PURCHASE LINK
Universal Link
➜
https://books2read.com/thefallofagod
Read The Touch of a Villain, Book One in The Boys of Clermont Bay now:
Universal Link:
https://books2read.com/u/mejykg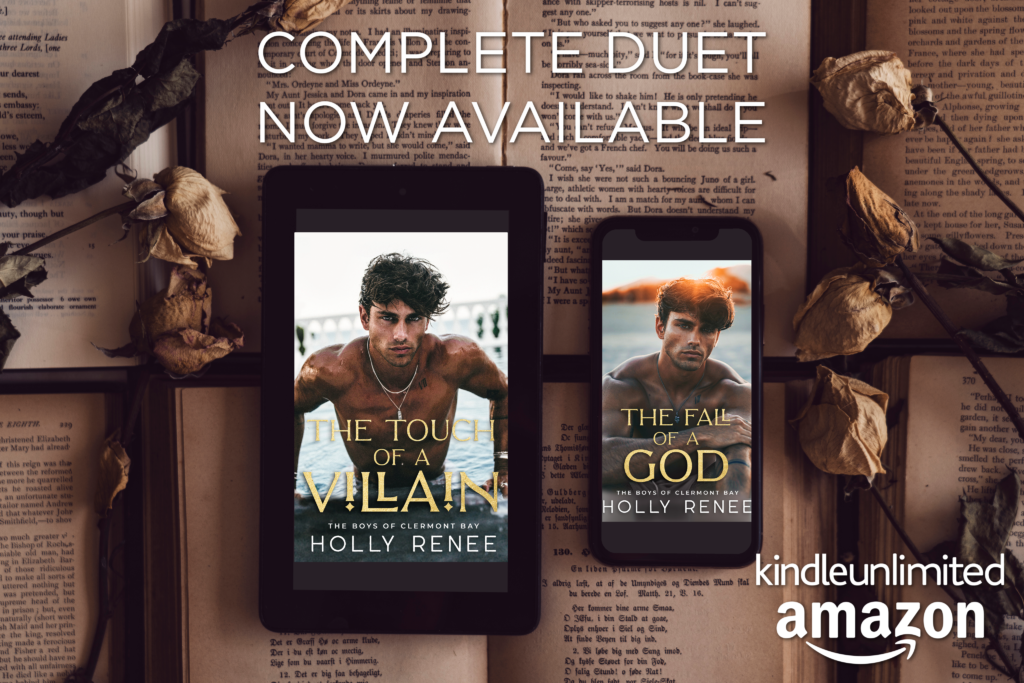 GIVEAWAY
To celebrate The Fall of a God's release, Holly Renee has two signed paperbacks up for grabs! Stop by her Facebook and Instagram pages to enter:
http://www.facebook.com/authorhollyrenee
http://www.instagram.com/authorhollyrenee
TEASERS
ABOUT THE AUTHOR
Amazon Top 100 bestselling author of contemporary romance, Holly Renee brings readers a pinch of angst, an indulgence of heat, and the perfect amount of heart in every book.
Born and raised in East Tennessee, she is a married mom of two wild children. When she's not writing, you can find her reading, pretending to be a dragon for the hundredth time that day, being disgustingly in love with her husband, or chilling in the middle of the lake with her sunglasses and a float.
Holly is a lover of all things romance, Mexican food, Harry Potter, and yoga pants.
AUTHOR LINKS
FB Author Page
|
ReaderGroup
|
Instagram
|
BB
|
GR
|
AMZ Author Page
|
Newsletter Sign up
|
TikTok
|
Website
I have been eagerly awaiting the rest of this duet since I finished the first book. After Beck's betrayal, I did not know how this was going to end. Josie is looking to finish school and get away from the town and the guy who broke her. Beck is hellbent on not allowing that to happen. He is full of regret and not ready to give up. This story kept me on the edge of my seat and up way too late finishing but I could not put it down!! I recommend highly giving this duet a read, it is totally worth every bit of nervous energy it will give you right up until the end.